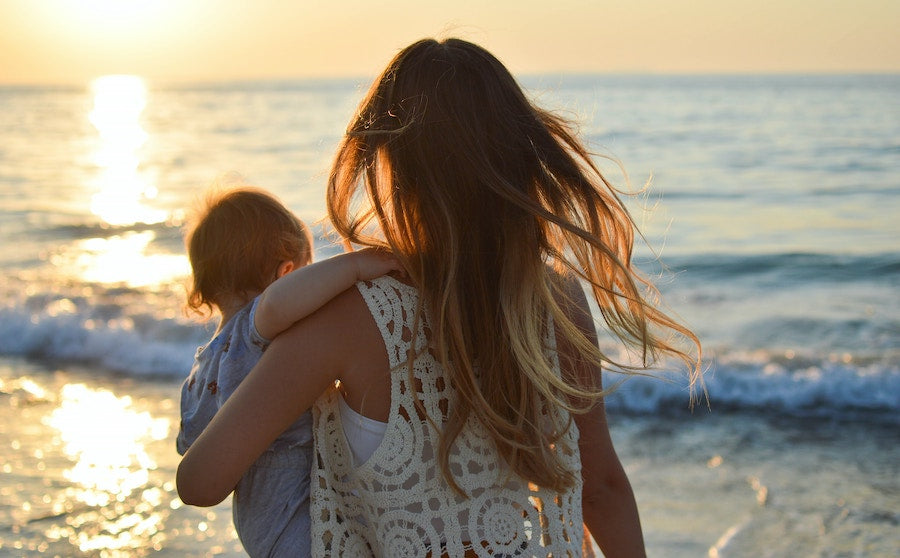 Given that we are a swimsuit company and moms, like you, we wanted to share some of our favorite beach bag essentials. These essentials might be a little different than most, as we searched high and low for just the right sustainable products. Each item is made by companies with strong commitments to Mother Earth, and to keeping it clean and green the whole way through. As summer months are finally upon us, it's a great time to refresh your favorite MOLOCO suits including your mini, and maybe pick up a cute new hat or cover up that both help make a positive impact on our global community.
This Raffia Bag isn't just a summertime statement - it's your next staple! And even more amazing, the tote is made with only the most natural ingredients and formed with biodegradable fibers from Madagascar. Made by MAM, (short for Mother), all materials used are 100% natural, and they include sustainable shipping and packaging to combat Co2 emission, FSC certified wood and recycled materials. With this super chic tote slung over your favorite MOLOCO swimsuit, your summer uniform is set.
We have been a long-time fan of Sea Bags for their washability and cute nautical prints - but the sustainability of their products is one to support and admire. Not only are all the bags made of recycled sails from first Maine, New England second and USA third, but Each Sea Bag is meticulously designed, sewn and finished by skilled Maine craftspeople: world-class sewers, artists, graduates of top-notch design schools. Since 1999, they've saved over 1.5 million pounds of material from being sent to landfills.
As a summertime fav, this hatone of the best patterned sun hats we've seen for a while. We are partial to the natural and black plaid, but it is made by hand in Bali by Village Thrive - a company that is committed to providing sustainable incomes for their artisans, and therefore creating opportunities to lift families out of poverty. This hat is just one of the hundreds of sustainable products offered on the Made Trade website (our new go-to!)
What's not to love about SuperGoop?! As our go to 40+ sunscreen brand for adults, SuperGoop is reef-friendly, cruelty-free and made with clean ingredients. It is a one-stop shop for families as well, as they have products especially made for babes and toddlers - but for older kids too! 
We love a brand that upcycles, and Barnana is all about it! Barnanasources bananas and plantains from small organic farms throughout the Amazon, that are typically too remote or too small of an operation (think, family-owned farms) to get their fruit to market. Barnana partners directly with these smaller farms and offers them steady incomes to rely on. Barnana snacks are created using bananas that are deemed imperfect for mass markets or are surplus, but these snacks are DELICIOUS in their own right! 
We are always on the hunt for the perfect refillable water bottle – and we think we found it with Purifyou! Not only does this glass tumbler feature a silicone sleeve for grip and protection, but it has a straw and was designed to fit in cup holders…FINALLY! Of course, we are attracted to the eco-friendly design but what sealed the deal for us is that it can be used for both hot and cold beverages!
QuiQuattro is an Ohio-based, woman-owned brand, that make towels handcrafted by micro-owned women businesses in Turkey, where the cotton is grown and harvested. 10% of all net earnings are donated to young girls education, and we especially love their Turkish Towels, also known as "Peshtemal". Pretty and sustainable…we'll take two, please!
Tell us what's in your bag!