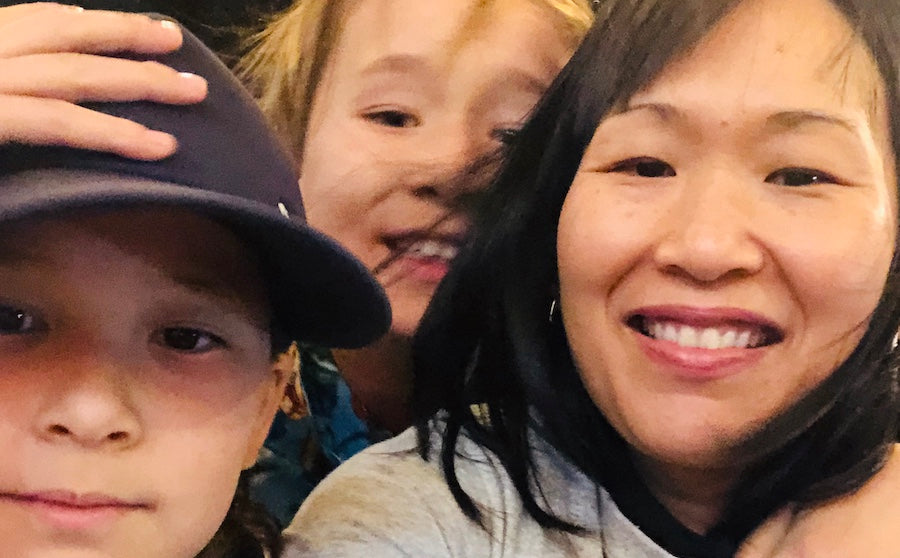 Shelley Suh is the founder of Loyal Hana, a company created to give back to both expecting and nursing mamas, who give so much of themselves to the little ones in their lives. Each collection is a blend of stylish, comfortable garments that enable the modern woman to transition from the bump, the boob and beyond. As we continue our World Breastfeeding Month celebration, Shelley is our mama feature of the week. 
What inspired you to start Loyal Hana?  
When I had my daughter Cybelle in 2009, I returned back to work and felt the missing gap in pregnancy and postpartum friendly clothing for women returning back to life. This challenge inspired me to work on my collection!! 
How do you balance motherhood and work-life? 

Balancing work and life is a constant evolution each year. I am lucky to be the mother of two amazing children, Cybelle who is 11 and Mason who is 8. I am lucky to have the support from my husband to create this collection and co-parent the way we do, where we do. I think that when I started my family I was challenged to redefine how to juggle my time between becoming a mother, being a loving partner and remembering that self care/me time was important.  With all this said, when you create something with purpose and passion you find balance and time to make it all exist. 
Do you have any tips or suggestions for other entrepreneurs or mamas thinking about getting back into the work world?
Every entrepreneur has a voice or platform to create something with purpose. Loyal Hana is an opportunity for me to share something, inspire someone, facilitate a process and simply to express who I am. If you have an idea, start talking about it with people and put the idea out there in the universe. It starts there, and you will quickly find out how many people want to support a great idea.  
What do you do in your well-earned downtime for yourself?
When I think of the word "downtime" an image of a person in a dark room napping pops into my head. However, in this lifetime, this is not how I live the word "downtime". Downtime for me is defined by something that refuels me.  I love working out, I love being with my kids and I love cooking.  
Can you share 3 mama-owned businesses that have inspired your process? 
I feel like I can't isolate 3 specific companies, but I can say I admire and am inspired by other moms/individuals that dedicate their career to women in the postpartum and prenatal field, more specifically physicians, mid-wives, lactation consultants and doulas.  
What advice can you give mamas who are struggling to "find their personal meaning" after/during child-rearing?
I find that when I'm struggling with anything, I have to remind myself to be present, patient and trust in the universe to take care of me. When you are in search of something as deep as personal meaning, I would suggest you make sure to take time to yourself and do something that centers you. Be patient with yourself, be present and listen to your inner voice.  
What is your favorite thing about being a mama? 
I have been blessed with two beautiful children. I love being a mother and spending time with my kids. Whether they are happy, excited, scared, mad or sad I love every moment of the mama journey.