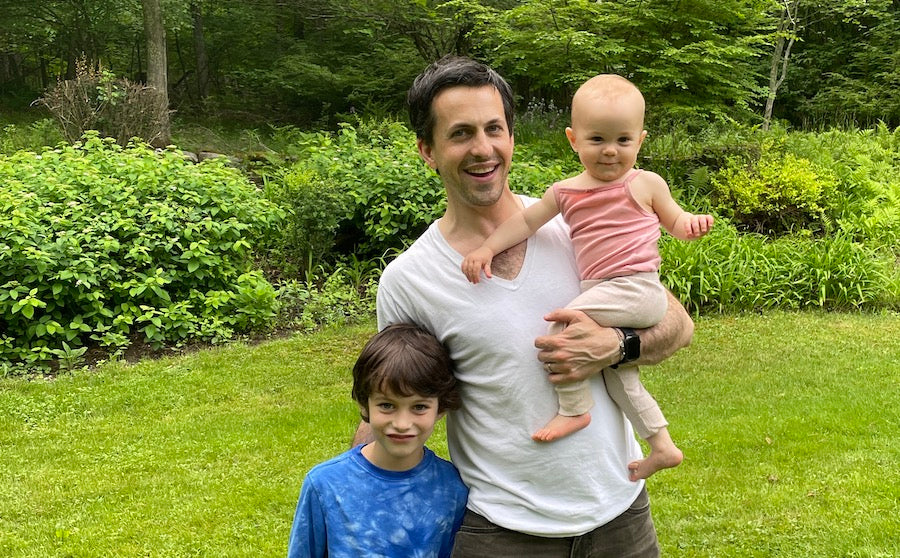 Behind every strong woman and mama is a tribe — our friends, our families, our community, and our partners. Support comes in many forms, and each member of our tribe contributes to our overall well-being. For Father's Day this year, we wanted to honor the fathers in our lives... In our first Daddy blog post, we decided to throw a few questions at Ryan Oakes, the husband of Mika Oakes, MOLOCO founder. Not only is Ryan the father of Jonah and Esme, but he's got a pretty unusual job as well.
So everyone wants to know about your work as a magician. Please share with us how you became involved in your craft!
Basically, I got into it when I was a kid. Then I just never grew out of it. Seriously though, my fascination with magic started when I around 8. I went to shows, I got books on magic from the library, and I met a magician in my hometown who later became my teacher. All I thought about was magic. By the time I was 10 I was doing shows for friends in my neighborhood, and well, I've been performing ever since. 
What is your favorite trick and why?
If you're asking about a trick I perform, I suppose it's whichever trick people find most memorable, and that's often different with each audience member. The goal is to create magical moments for people, and when someone mentions a specific trick that made an impact on them — that's everything for a performer. If you're asking about my favorite trick that I've ever seen, it would have to be "The Sword Box" illusion performed by The Moretti's. It looks like a pretty straightforward routine, but then…. wait for it! 
How did the pandemic affect what you do?
My entire career changed, almost overnight. Last March, within a matter of days, my calendar for 2020 was wiped clear, as clients cancelled live events across the country. My wife Mika was 6 months pregnant with our second child, so it was pretty terrifying. A number of clients were open to shifting their events to virtual events, and so I quickly worked through how I could translate what I do into a show suitable for video conferences. I was determined to innovate, and by the end of March 2020 I was performing virtual magic shows for audiences all over the country. I'm grateful I was able to find a new market, and I actually think virtual performances will now be a permanent option for clients. 
Since you "work from home", what is your role in the household? 
My role has changed a lot since I haven't been traveling for work. I used to be on a plane 2-3 times per week, but the pandemic has allowed me to consistently be a part of our daily routine. I do my best to juggle the pressures of work with the pressures of parenting, and I've felt really fortunate to be home during this whole first year of our daughter's life. Mika and I both manage our own businesses, which means we both have the freedom of making our schedules, but it also means we're almost always wearing multiple hats. Parenting is a tough job, and I do think roles can be helpful in assigning responsibilities (and taking anxiety away about who does what when). Parents have lots of roles, but the one I find myself enjoying most is teaching… making discoveries together, learning from mistakes, reflecting on an experience, and generally guiding our kids' curiosity. 
With a wife that breastfeeds, how do you support/help with the baby?
Mika has been exclusively breastfeeding, which means that she's not only a rockstar, but that she takes the brunt of our baby's sleep schedule. In a lot of ways, my help/support comes in supporting Mika so that she can recharge, step away, or focus on her work. I do what I can, when I can, with the baby — I take her on walks, I read to her, and I, of course, toss her into the air at heights that make my wife uncomfortable. 
What is your favorite daddy moment so far?
Nothing beats a tiny pair of arms reaching up to be held, or when our older son wants to sit on my lap and read together.