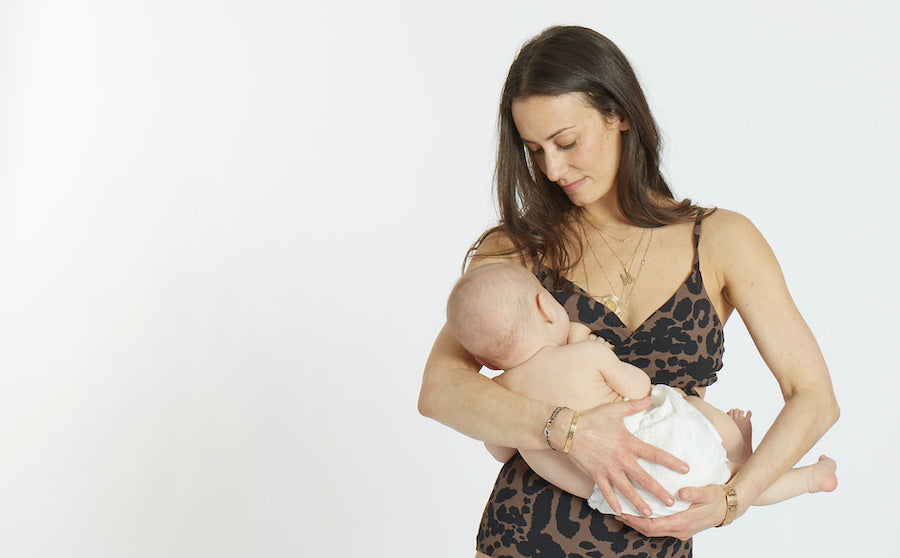 It's Mother's Day this Sunday, but shouldn't every day be an opportunity to celebrate the accomplishments of our mama friends? In honor of the many enterprising mamas that I know and love, that have been juggling motherhood, a personal business and their own sanity, I wanted to share a few of my favorite mama-owned small businesses.
Osmia Organics
Osmia Organics is an artisanal skincare line created by mama and doctor, Sarah Villafranco. Every product offered on their site is cruelty-free, vegan-friendly and without use of synthetic fragrances or colors. I especially love the Lip Doctor, which I currently swear by! 
Georgia Alexandra Jewelry 
I met Georgia Alexandra a few years back at a pop-up in NYC, and I immediately fell in love with her signature Diamond Initial Necklace with link chain. I coveted it for years, and after the birth of my daughter, Esme, I received the 'E' pendant as a birthday gift and haven't taken it off since! Georgia, a mama of three, combines exceptional gemstones with precious metals to create enduring fine jewelry collections. What makes us swoon even more is she is donating $75 from EACH sale during the months of April and May to Every Mother Counts.
SALT
Handwoven by traditional Columbian artisans, each Salt strap infuses every bag it hooks with a fresh pop that's easy to throw over your shoulder. They offer the perfect twist to a timeless handbag and can literally upgrade any bag that might have already seen its day. Beautifully made, they fit perfectly into your rotation, and I am obsessed!  
Your Soul Style
My dear friend Jenny Greenstein is the mama behind Your Soul Style. She is a super-talented personal stylist, or "soul stylist" as she calls herself, and passionate about helping women access their personal style from the inside out. The Your Soul Style method is an integration between style and mindfulness, and Jenny's approach is a well-rounded program she has created to help women access their most empowered sense of selves after working the method. In the end, her process results in way more than a closet cleanse or personal style revamp. If you have been considering anything like this — perhaps you're starting a new job, in need of a postpartum makeover, or just getting ready for post-pandemic socializing again — Jenny is the woman for you! Take a peek at her recent NY Family cover story, which is the magazine's first EVER two-mom family cover!
Nancy Anderson Fit
I came across Nancy Anderson Fit when I was one-week postpartum, and in the vortex bubble of skin-to-skin with my new baby girl. I was in no way physically ready for any sort of exercise at that moment, but I started following her on social media and even bought her Ab Rehab program as it had exercises specific to c-section mamas. I later went on to complete the program, and it helped my healing process tremendously. Nancy Anderson is a mama of two boys, a fitness guru (IMO) and a super-knowledgable trainer who has put together ALL the goods a postpartum mama would need in her online platform. She also just recently launched The Birth Recovery Center, which is focused on actively providing the highest level of affordable and virtual solutions, created by pre & post natal experts, to raise the standard of care for women.