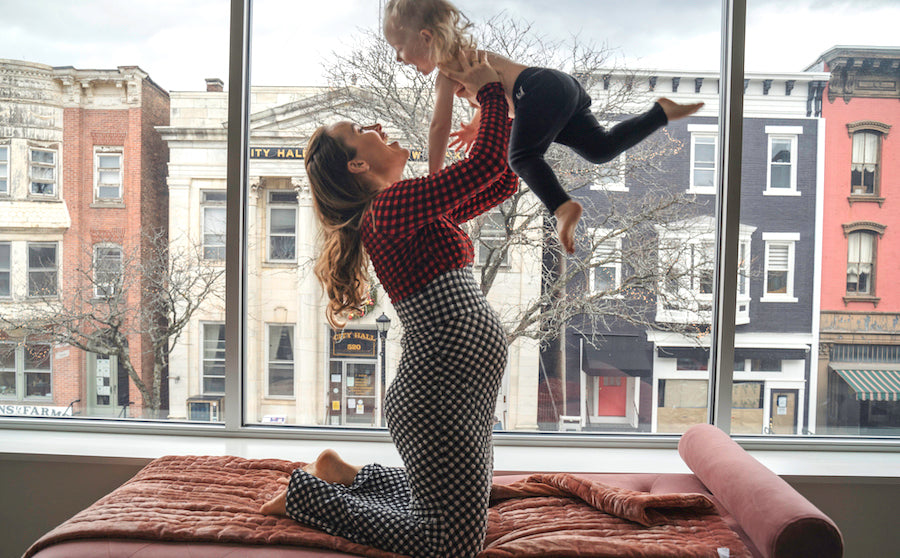 Laura Lane is a Brooklyn-based comedy writer, performer, journalist and mama of two boys. She has written for The New Yorker, Esquire and Vanity Fair, to name a few… and she is also the co-host of the popular comedy podcast This Is Why. Laura was born with a rare genetic condition called unicornuate uterus — when a woman only has half a uterus. In and of itself, pregnancy is extraordinary, but pregnancy with half a uterus is truly a miracle! Laura refers to her two babies as her miracles, and they are. We were so intrigued by her story that we asked if she could fill us in a bit more on how this impacted her journey into motherhood, and what kind of support she found for herself along the way. Here's what she had to say…  
Tell us about your journey into motherhood. Your story is a unique one. 
Around the time my husband and I were thinking of having children, I found out that I was born with half a uterus (technically called a unicornuate uterus, quite mystical sounding!), one kidney and one tube. This meant that my journey to motherhood might be a lot more challenging than I'd imagined since there was a higher risk of miscarriage, preterm delivery, growth restriction, stillbirth and a lot of other scary things. It was sort of shocking to find out that my body had these missing parts that I assumed had always been there. At the time, I was in the middle of one of the biggest work opportunities – writing a pilot for a TV network based on my first book – and then I was thrown this wild personal news. It was a lot at once. After six months of trying I got pregnant but when we went to check for a heartbeat there was none. The loss spun me into profound sadness. It ended up being unrelated to my half uterus so we kept on trying and four months later I was pregnant with my son, Rilo. I did everything I could do to stay as stress-free and chill as possible, despite being labeled high-risk and knowing what loss felt like. Against the odds, he stayed in my belly and came out completely healthy at 37 weeks and 3 days. I'll be eternally grateful for the rest of my life. Now I'm pregnant with my second son and high-risk again during a global pandemic, but so far all is going great. I truly believe they are my two miracle babies! 
Were there specific modalities you explored before, during or after your pregnancies? Eastern and/or western?
I kind of went all in on both modalities. I had some of the best high risk doctors in New York, said yes to every ultrasound and test they recommended, even if that wasn't how I'd initially pictured my pregnancy. I simultaneously met with any "guru" I could find to support the pregnancy: craniosacral therapist, imagery specialist, homeopath, chiropractor, doula, yogis, Ayurvedic chef and I'm sure there were others I've since forgotten about. I sort of took an open-minded "if it can't hurt I'll try it" approach. I wanted to feel some sense of proactiveness over the situation despite knowing I had little control. My personal credence is somewhere in the middle. I believe there's a place for both modalities so it worked well for me... even if it was a lot of appointments!
Of the modalities you did explore, which did you find most helpful?  
Yoga and acupuncture are a regular part of my life and I find those to be the most beneficial for so many things both mental and physical. I am pregnant again and haven't done craniosacral therapy for this pregnancy, mostly because I've really eased up on appointments during the pandemic, but I did find it very supportive and almost mystical during my first pregnancy. And of course, knowing I was in good hands with experts in the field with my high risk doctors gave me comfort.
As a New York based freelance writer, how has motherhood affected your career? Are there specific ways in which you find that work/life balance? 
It's extremely important to me that I am a very present and involved mother, while at the same time I want my son to grow up seeing a mother who has her own interests and accomplishments outside of the home. To balance both, I just say no to things that I might have felt obligated to do in the past. It's surprisingly helped my career to have more focus. I work less hours but I've accomplished so many more of my career goals in the last couple of years. If I'm not doing something fulfilling, I want to be with my son and I believe if I'm creatively fulfilled, I'll be a better mother. 
What was your breastfeeding journey like? Was it an intuitive experience, or more of a struggle?
It's been quite a ride! We were breastfeeding within the first hour at the hospital after my c section (he was breech). There was one point when he was young where he went on a "nursing strike" and would only take bottles and although it only lasted a couple days, it was upsetting and confusing at the time, but then it passed. Shortly after my son's first birthday, I got sick with appendicitis and I spent months fighting a deadly infection. I lost a ton of weight and was on IV antibiotics and our breastfeeding journey looked like it had come to an end when my milk disappeared. But maybe 8 months or so later after I healed, he wanted to start breastfeeding again so we've been doing that about twice a day ever since and throughout my pregnancy. I was told early on that this could be a regression because of the break in between, but in the end it just didn't feel like that was what was happening. It really seemed like our journey had been cut short and he let me heal and then was ready to pick back up. The whole experience has made me appreciative of every unique journey, more open minded and reminded me to listen to the intuitive mother inside.
What are your thoughts on going from one - two kids, in comparison from zero - one kid? Is there any advice you have heard that has stuck with you on the topic? 
The phrase I hear the most from my friends with two kids is that there is "no break" so I'm preparing myself for less "me" time. With Rilo he pretty seamlessly fit into our life and he's just a very chill and easy going dude. It was a huge change, of course, but I didn't feel like I let my "old" life come to a total stop. It just adapted. He joined us on vacations, I'd put him in a carrier everywhere I went and we'd have little adventures together. This little person just added to an already full life in the most beautiful way and made everything that I love that much more wonderful to do with him. I can't wait to see the boys play together. I know the beginning is always a little hard but luckily my husband and I have flexible schedules to help each other out. 
Any words of wisdom on breastfeeding for new mamas out there?
I would sort of give the same advice I got for birth: it's great to have a plan but you don't know what your journey will actually look like so keep an open mind. Just do what works for you and ignore the noise, the pressure or anyone else's idea about what your journey should look like. Also, I do think having a small freezer stash gives you some peace of mind in case your supply drops or you just need some time to yourself!
 Any words of wisdom or insight for mamas currently pregnant and expecting soon? 
Write down all of the little things because you will forget them! I bought a "One Line a Day" journal and I write one thing each day about my son whether it's an anecdote, something funny he said or just a feeling I'm having. I love looking back at memories.
Unrelated but probably even more important is that everything is temporary and transient: both the good and the bad. Your baby won't stop crying? Temporary. Your baby only sleeps on you? Temporary. Cluster feeding? Temporary. It's also true of the good and it reminds me to stay present and savor the small joys.
It seems like silver linings are all around during these unprecedented COVID times… Any silver linings you can share during your 'pregnancy in a pandemic' experience?
So many! I've been able to focus more on myself and my family because I have no external activities to distract me or pull me too. There's no guilt in saying no to things I don't have the energy to do because there's very little else to do! I've also worked out a lot more this pregnancy because the online classes are so easy to squeeze into little pockets of time. I haven't had to get many prenatal clothes because it's all about loungewear! Another bonus: working from home means naps anytime I want.
Lastly, we'd love for you to name your top three pregnancy or breastfeeding essentials. They could be items of clothing, specific products or anything else you couldn't live without!
BBhugme pillow - This is great for sleeping on the side, using as a breastfeeding pillow and as a yoga bolster. It's the perfect cozy, multi-use pillow that I also think looks cute on the bed.
Goop Mother Load prenatals - This is my favorite prenatal and postnatal. They have everything you need in one packet and I took them through pregnancy, postpartum and breastfeeding and all the way through until I got pregnant again!
Earth Mama Nipple Butter - It's my favorite and truly is like butter!