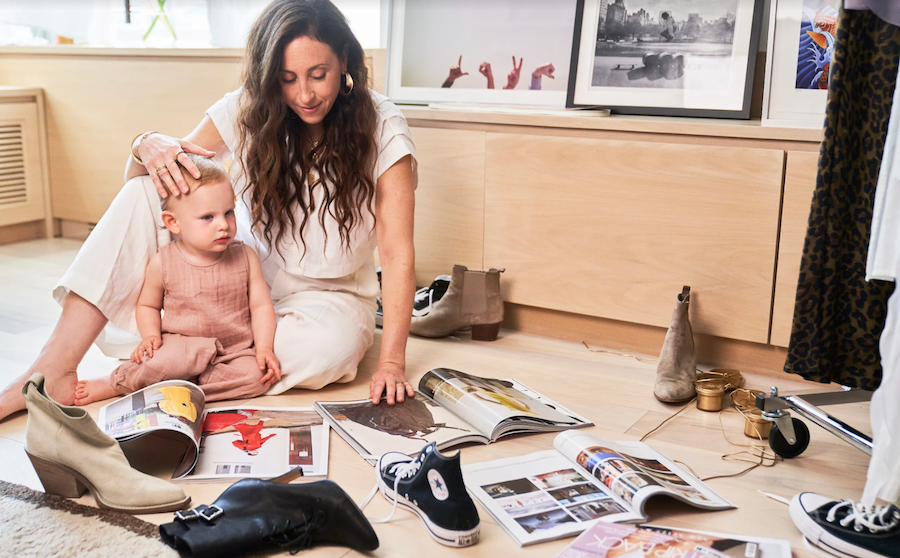 Jenny Greenstein is mama to two girls, the founder of Your Soul Style and a personal close friend of our founder, Mika. Mika has often said that Jenny is her "style guru", and one of the many inspiring conversations that was had between the two friends sparked the idea for MOLOCO back in the beginning! Your Soul Style is as an integrative approach to style, and mindfulness, and finding your way to your own empowered sense of self. Through her own years of struggle from before baby, to while pregnant with both daughters, then postpartum and beyond, Jenny has always been passionate about fashion, but without sacrificing authenticity. As our celebration of World Breastfeeding Month comes to a close, Jenny is our mama feature this week. We asked her to tell us a little bit more about her business and personal journey with motherhood, and here's what she had to say...  
What inspired you to start Your Soul Style?
Your Soul Style is an integration between style and mindfulness. I've always been passionate about fashion but not at the cost of sacrificing authenticity. I believe that style must emerge from the inside out but often find that in our culture we style from the outside in. There are a lot of variables when it comes to personal style with influences coming from our parents, peers, media, trauma, social spaces, etc. Unfortunately, at times these things can negatively impact us by taking us off track. When this happens, we wind up lost and disconnected from our core sense of being (and style). Your Soul Style was birthed from my commitment to honest self-expression, introspection and personal growth work combined with my love of fashion. Living in alignment requires us to find connection between the inner and outer self. It requires us to tap into our soul. And I believe we must explore the deepest layers of ourselves first, before we can emerge as our true self stylistically.
How do you balance motherhood and work-life? Do you have any tips or suggestions for other entrepreneurs or mamas thinking about getting back into the work world?
I think balance is a tricky word. There's no formula to it when it comes to being a working mom. Instead there's an opportunity to lean into each day, and surrender to knowing that the scales are constantly shifting. One day will be more heavily weighted on mom-duty while the next I won't see my kids all day. While I often feel a sense of guilt while the other is being neglected, I accept that I've chosen to be both a mother and working professional and hold steadfast to Madeline Albright's words, "I do think women can have it all. Our life comes in segments, and we have to understand that we can have it all if we're not trying to do it all at once.". I try not to measure the day to day. Motherhood is a long game.
What do you do in your well-earned downtime for yourself?
To be honest - as a working mama of 2 little ones, I don't have a lot of free time these days, and when I do - I don't have tons of energy to do the things that I love. That said, when I do have free time, I love to read, write, travel, look at interior design magazines, take photos, yoga/pilates, vintage shopping and see live music.
Can you share 3 mama-owned businesses that have inspired your process?
Of course! My friend Carly started Laude The Label, an ethical fashion brand based in Fort Worth, Texas. I'm inspired by everything she does from an aesthetic perspective to her mission of empowering women all over the world. I'm also inspired by my friend Alexis Barad-Cutler who founded the community Not Safe For Mom Group - providing a safe space for women to discuss all things motherhood. And of course my girl Mika, founder of MOLOCO. Being a full time parent and building a business at the same time is a huge undertaking. With her hard work, commitment and dedication she is creating something so beautiful while also being able to be with her kids.
What advice can you give mamas who are struggling to "find their personal meaning" after/during child-rearing?
Becoming a mother is a transformation and there's no going back. By releasing the "what was" we are able to hold space for something new. Letting go is a vital part of the process. It's hard, but I often find that women struggle the most when they hold on tight to the dream of a return without realizing it can hold them hostage to embracing the present. My best advice is to surrender to the fact that you are not who you were, in order to empower yourself to become who you are.
What is your favorite thing about being a mama?
The simultaneous growth that happens for both parent and child. I'm learning just as much from my daughters through this journey as they are from me - and how incredibly beautiful that is. It's the most sacred relationship I've ever had.