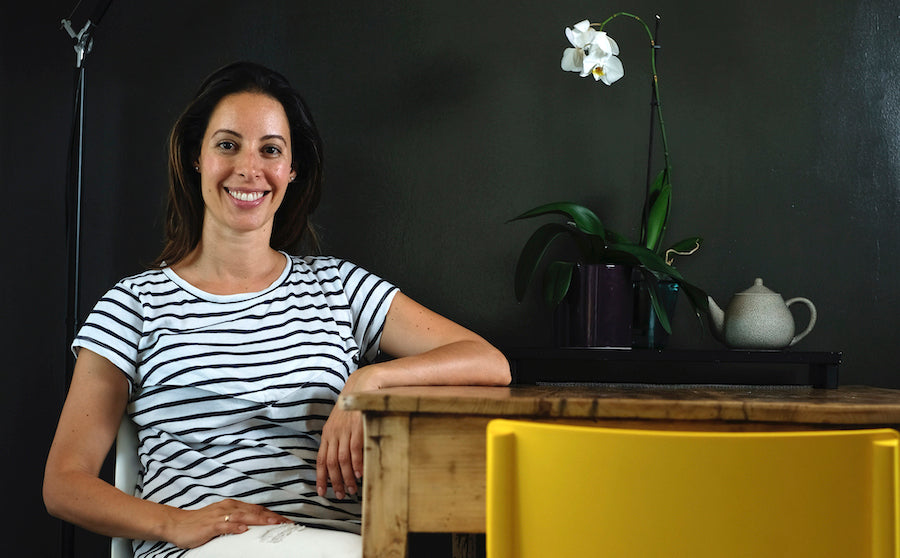 Peggy Economou, is the mama and co-founder behind the brand Teat and Cosset, a carefully curated line for mamas that specializes in quality clothing made to last long after you've had your baby. One of the largest obstacles facing pregnant and breastfeeding moms is finding functional yet stylish clothing, and Teat and Cosset was conceived to cater to the tireless mom who wants the best for her and her baby. As Peggy is kicking off the start to our "I am a Mother" campaign + World Breastfeeding Month, we asked her to tell us a little more about what being a mother means to her, and how she finds both the time and ways to connect back to herself within her mothering. Here's what she had to say... 
What inspired you to start Teat and Cosset?
My daughter Dafne was born in December 2014 in the dead of winter. None of my clothes had easy breastfeeding access, so I ordered a few tops online. When I got them, I was surprised by the poor quality, questionable functionality - buttons on the shoulder?! I ended up spending a lot of money on things that I didn't even want to wear while I was nursing, let alone afterwards. 
Fast forward to trying to soothe my crying baby during night feedings and I felt like I couldn't open my pjs fast enough and I thought, "why not use snaps instead of buttons?". The first piece in my line were theMila PJ's with snaps and then the line grew to a cohesive 15-piece collection. My goal was to create a collection that didn't look or feel like nursing wear that was free of stretch jersey and looked like clothes I would want to wear when I wasn't breastfeeding. 
And from there it evolved to wear it is today, a collection that is bump and nursing friendly and one that moms continue to wear long after they reach their motherhood milestones.
How do you balance motherhood and work-life? Do you have any tips or suggestions for other entrepreneurs or mamas thinking about getting back into the work world?
I struggle every day balancing my time between family and work, which I think is especially hard for an entrepreneur because work never stops. I try to stop everything I'm doing when we're all home and dedicate that time to them - but it's still not always possible! A mompreneur friend of mine recently gave me some good advice to try to do at least one special thing each day with my children, even if it is only for an hour - to just be 100% present for that time and it is enough. 
My suggestion for moms thinking about getting back into the work world is to be patient and make sure when you do go back you do what you're passionate about. You'll miss your kids for sure when you're at work but there's something about doing what you love that makes you feel like you're living to your fullest potential which I believe is so key to feeling satisfied and fulfilled.
What do you do in your well-earned downtime for yourself?
My go-to place to recharge is a beautiful spa called San Giovanni Terme, which is luckily a 15 minute drive from my home. My husband and I try to go as often as we can and make a day of it. We soak in the thermal pools in the morning, and then have a healthy lunch at their beautiful restaurant overlooking the Tuscan hills in the afternoon. The natural minerals found in the water, help me feel re-energized and my skin feels amazing afterwards. Plus, the alone time with my husband is essential. I also love to spend time with my friends and make an effort to schedule a girls lunch or a dinner date at least a couple times each month. 
Can you share 3 mama-owned businesses that have inspired your process? 
I loveRebecca Minkoff, she is such an inspiration and has been in the business for so long and had her kids throughout her career. We interviewed her last year and were blown away by her candor, her humor and her strength!Here is the interview. 
Another mama owned brand I love isThe Dairy Fairy. Emily, the founder, and I have become friends over the years and we often chat with each other to see how each of us and our brands are doing and we bounce ideas off each other. She has been in the nursing mama business for longer and has great perspective. There are so many other mama owned brands I love I couldn't possibly limit it to one more!
What advice can you give mamas who are struggling to "find their personal meaning" after/during child-rearing?
There are 3 things I live by that help me when I'm struggling myself. First, keep setting and writing down your goals (weekly, monthly, yearly, etc) and when you reach them set new ones. Start out with small things, like meditate for 5 minutes in bed each morning and then build from there. 
Second, practice gratitude daily. I find myself feeling much happier when I remind myself of all the good things in my life. I also constantly remind myself that I'm where I am at for a reason. It took me a few years after I quit my banking job to become an entrepreneur and only after I became a mom did the idea I had been waiting for come to shape. So I would say be patient, enjoy this time with your baby/babies and be grateful for what you have!
What is your favorite thing about being a mama? 
The time I spend with children..seeing them grow, change and become their own people is just an amazing thing to experience.