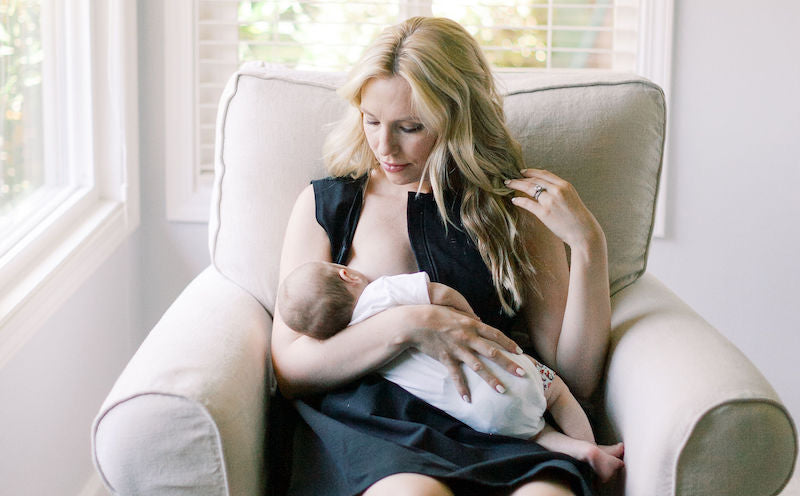 Devon Berrier is the founder of Layton, a chic and modern clothing line of well-curated pieces for the nursing mama (and beyond!). Because of the lack of postpartum, fashionable options that Devon had to choose from when she first started her motherhood journey, she wanted to create a collection that helped make it easier for mamas, while not compromising functionality, design and quality. Layton pieces can take you from the workplace, to the park with your kiddo, to a night out with your girlfriends! Each piece offers versatility, flattering silhouettes along with extra pockets for more storage (which we know all mamas need) and a focus on sustainability. Giving back is one of the main components to this modern breastfeeding line, as Devon is passionate about supporting mothers and families in need and launched a "giving back initiative" within Layton last fall. We got to talking with Devon about all things motherhood, self-care, and her dedication to charitable work. Here's what she had to say...
What was your background before starting Layton, and how was Layton born?
Prior to developing Layton, I worked in state government and politics as well as in Public Relations. When I became pregnant with my first child, I was between jobs and had the opportunity to stay home. I realized quickly after giving birth that there was a void in the marketplace for fashionable clothes designed with breastfeeding functionality, so I decided to design my own and worked with a local seamstress to have my first samples made. It took me nearly 7 years between those first 2 samples and launching Layton—and I've learned so much along the way!

What are some of the differences that Layton offers vs. the other postpartum and breastfeeding friendly lines out there?
When I was first postpartum I was shocked at the lack of fashionable and functional options available for breastfeeding mamas. This was 8 years ago now, and luckily a lot of fun brands have popped up that offer great pieces! My goal was to launch a line that offered event ready and work appropriate pieces for mamas on the go. Each design has hidden accessibility, is made in a washable at home fabric (making spot cleaning and washing a breeze), and we add pockets whenever we can (to carry all those baby accessories easily). I also focus on silhouettes that will compliment the postpartum figure and help mamas feel great in what they're wearing. I design pieces that also easily transition into the post-breastfeeding wardrobe. I like to buy pieces that I can wear again and again not just for one specific event or time. I am excited about what we are launching in Spring 2020, pieces that will take you from pregnancy to breastfeeding and beyond.
Our collections are all manufactured and produced in California—which I am proud of. I am committed to supporting jobs in fashion and design at the local level.  I also source remnant fabrics from different vendors in California and partner with fabric companies that offer low minimums so there is little to no waste of any of our resources used. As we continue to evolve and grow, our commitment to sustainability will never change and I will constantly be looking for new ways that we can ensure we are doing the best we can for this planet!
We understand that Layton focuses a lot on charity work, which is amazing! Can you name some of the charities you have worked with and why it's so important to you?
Thank you! Yes, I am proud to say we launched the "Layton Gives Back Initiative" last fall. Every quarter we are committed to partnering with a different nonprofit (that focuses on supporting mothers and/or families), by donating a portion of our sales to that organization. Our first partner was Saving Mothers, an amazing organization dedicated to providing life saving medical programming and equipment to underserved areas. We are currently partnered with The Shoebox Project that collects and provides gift boxes for women who are homeless or experiencing homelessness across communities in the US and Canada. The Shoebox Project is wonderful because you can get really involved—putting together your own gift boxes or donating funds for them to assemble and deliver. I love that we get to work with a variety of organizations and give back in so many different ways. We also offer a link for customers/followers to nominate their favorite charities for future partnerships. 
What do you think the biggest surprise about becoming a mama was?
I continue to be amazed by so many things about being a mama. Obviously the immense love I have for all my babies surprises me—not that I am surprised at how much I love them, but because it feels like they were always meant to be here, like they are a complete extension of my own being. That is a very heavy of way of saying, they are my people and I would literally do anything for them. I am also surprised about how much I can multi-task and accomplish on little to no sleep! Ha!
What would you say your version of self-care looks like? Do you have a secret to success with balancing it all – motherhood and work life?
Ahhhh! I wish I had a secret! I don't feel like there is a perfect balance—it's impossible because life is so unpredictable. I do try as much as I can to take a moment for myself every day... Reading a good book, going for a run or hitting the gym, or just sitting down for a peaceful moment. When I have more free time, I LOVE a good mani/pedi.
I am also trying my best to be present with my kids. This means no phone and no computer when I am with them. I want them to know that I work hard, but that my time with them is of the utmost importance.
Was there a piece of advice that someone gave you before or after becoming a mother that stuck with you and you can share?
SLEEP SCHEDULING IS KEY. A friend of mine inspired me to take advantage of sleep scheduling. It truly makes life easier (and filled with more sleep). All three of our kids respond to being on a schedule, so getting the sleep schedule down has made our lives better. This time around we used the Taking Cara Babies scheduling and sleep training methods and HOLY MOLY—baby boy slept through the night on day 2.5 of implementing. I am a believer!
What was/is your breastfeeding journey like? Any words of wisdom for mamas that might struggle with the process?
I think it is important to always remember that just like every baby is different, every breastfeeding journey is different, too. Breastfeeding can be hard and it can be stressful. I hear from a lot of new moms that breastfeeding causes them the most anxiety. My advice to all breastfeeding moms is this: be patient and kind to yourself. Do not worry about what other people are or aren't doing in regards to breastfeeding—their journey is not yours.