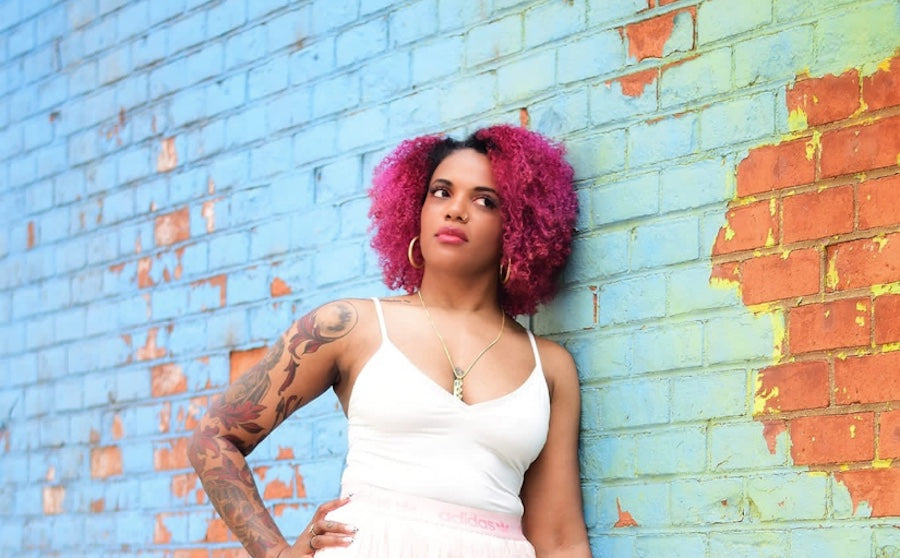 Originally from Brooklyn, NY, Karma Tudor is a mother, doula, childbirth educator, certified lactation counselor and yoga teacher. With years of yoga training and teaching under her belt, plus a past life in the insurance industry, Karma completed her doula certification with Mama Glow.  She has provided and continues to provide community doula services with the Caribbean Women's Health Association, and is a member of the National Black Doula Association and Long Island Doula Association. Karma believes that every expectant human should have a doula, regardless of their family make-up. She prides herself on being a protector of those she encounters while enforcing the mindset of being gentle with yourself.
What is a doula, and how would you explain the scope of work to expectant parents who are unfamiliar with the term?
A doula is a non-medically trained support person that assists prenatally, during the postpartum period and through new life transitions after baby is born - to name a few. Doula's have so many skill sets; some are herbalists, yoga teachers, childbirth educators, social workers, and the list goes on... As a doula, I support my clients by providing evidence based information, assisting with labor pain management, educating on advocacy in spaces where the birthing mother may feel unseen or unheard. When there is partner support, I will inform the partner on many ways they can support their loved one during pregnancy, birth and beyond.
Why did you decide to become a doula, and what do you love about supporting birthing people?
In 2018 I read an article about the increasing black maternal mortality rate in The New York Times. I was instantly connected to the story since my own pregnancy could have had a dark outcome. At that moment I decided I wanted to assist birthing people during their prenatal and postpartum experiences, by becoming a doula and receiving a doula certification with Mama Glow.
I love helping and educating people, while I am very nurturing, I do not play when it comes to my clients. I need to ensure that they feel safe and heard during this special time in their lives.
As a doula, how do you put aside your own opinions on topics like; circumcision, vaccinations and epidurals so that you are able to wholly show up for your clients without judgement?
It is automatic for me to show up as nonjudgemental. This work is NOT about me — this isn't my story. Yes, my own birthing experience brought me to this work, but I am not reliving my experience. I want my clients to have a birthing experience where they feel they are able to make educated and informed decisions of their own, and not influenced by me.
How do you support or involve a partner while active labor is happening?
I meet with my clients, partners included, a few times prior to their "birth" day.  During these meetings we talk about what labor can look like, and the best way a partner can be there to help mentally and physically support the laboring mama. Partner support should be a continuous thing throughout pregnancy and some examples would include; checking in on her well-being, giving massages or booking prenatal massages, setting up showers, drawing baths, making or bringing home meals, etc. I remind my clients that just because I am the doula, that doesn't mean that the partner takes a back seat. This isn't my baby :). I make sure to support the partner as well, by providing them with the tools they need to confidently support their partner. In addition, I provide them with some reprieve, only when the birthing person says its okay for them to take a break! (Haha!)
Do doula's offer postpartum support? What does that look like?
Some doula's do offer postpartum support. That can look like assisting with bottle prep, washing baby clothes and bottles and preparing healing meals for the birthing person. This can also look like talking with them about questions they may have pertaining to their new baby or postpartum selves. We can assist with postpartum binding and holding or caring for baby while the birthing person naps, showers and eats. A postpartum doula  is also able to provide resources such as; support groups, therapist if requested, pelvic floor therapists, etc.
Quick! Name your top three pregnancy or breastfeeding essentials! They can be items of clothing, specific products or anything else you couldn't live without!
For breastfeeding - Heating Gel Packs
For breastfeeding - Birth Ball 
For postpartum days - Belly Binder for Vaginal or C Section Delivery