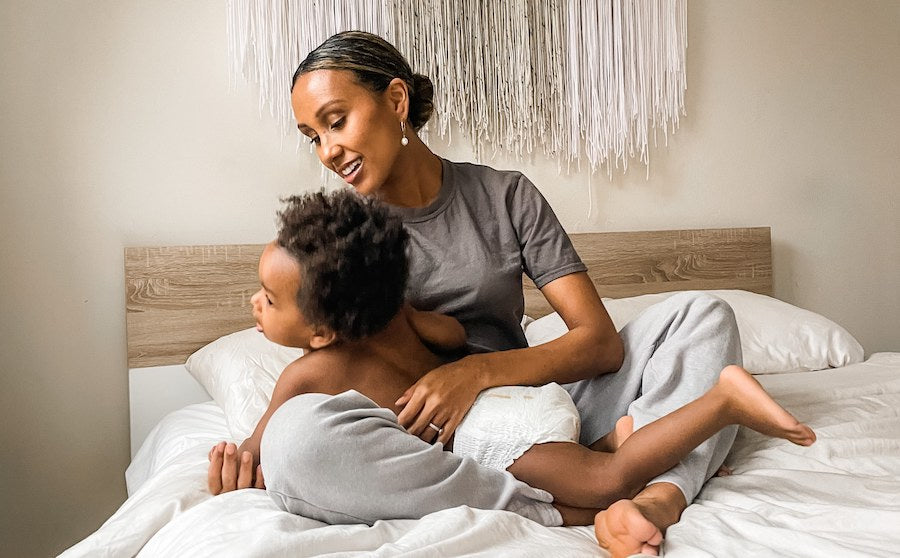 Alexis Kristiana is NYC-based model, mama and founder of Liquid Gold Vintage (LGV) – an online shop that offers breastfeeding-friendly vintage pieces for all mamas. Alexis is inspired by motherhood, healthy eating, personal style and her son Zion. We asked her to tell us a little bit more about all things mamahood, LGV and the things that keep her lit up on an everyday basis. Here's what she had to say… 
Tell us a little more about your journey into motherhood. Did you always know you wanted to be a mama?
Yes, I definitely always felt called to be a mom, it was always something I hoped for. But I certainly had no idea what I was in store for with motherhood. It's been the most rewarding, fulfilling and beautiful part of my life, and I'm just so grateful for my son. Finding myself as a mother was definitely not easy, and it's not for most of us. It's a magical transition that requires proper support and nurturing. 
What were you up to before Zion was born? What would you say has changed the most (career wise) after he was born?
It's funny because my husband and I constantly say how much "life" really wasn't life before Zion, and it's true. I was modeling full time in NYC, doing fashion jobs on the side, and working on blogging. At the time it was fun, but the moment he was born, everything changed for me. I wanted to be more and do more because of him. I started modeling with him, built an organic following on Instagram by sharing my motherhood journey, and eventually fell into influencer partnerships that just kept growing from one to another. That was when my online store Liquid Gold Vintage was born! With Zion, the sky is the limit for what I plan to do.
How did you come up with the concept of Liquid Gold Vintage?
I've always had a love for vintage clothing, and I'm all about practicing sustainability. It sort of came to me as an "aha" moment, while I was out thrifting for breastfeeding friendly clothing for myself. I was like, " I should sell this!" - so I did! I wanted breastfeeding moms to feel good and look good while doing such an important job, and I didn't want their style to be lost or sacrificed. As Liquid Gold Vintage is the first vintage store to cater to breastfeeding mamas, I knew I was on to something. 
What was your breastfeeding journey like?
We are still on it today at 21 months! It's been a long journey that I am forever grateful for. It's such a gift to be able to provide such nutrition for your child through your body - it's just beautiful. We struggled with a breast preference, which ultimately led to a drop and complete stop in supply to my right breast. On a physical level, it was tough for me to see my body change so much. On an emotional level, it helped me to focus less on the vanity of it, and more on what my body has done for my son. 
Did you receive any gold nuggets of advice before giving birth or breastfeeding that has stuck with you and you can share? 
Before giving birth, I feel like you are bombarded with advice - whether you want it or not! One of the positive things I remember was that someone told me to do things the way I want to do them. I realize now, that I didn't get it then, but I understood what it meant once I became a new mother. 
We love all of your food posts on IG! What kinds of foods do you give Zion, and what is the philosophy behind food that you follow? 
Thank you! We originally started Zion off on a plant-based diet, but we have now switched to a more of flexitarian diet that includes lean meats, chicken and turkey. We eat intuitively with the foods we choose, and focus on listening to what our bodies need. Incorporating a wide range of plant-based options, is still really important to me too.
Can you list three quick go-to meals you love for the busy mama? 
It's basic, but a grilled cheese sandwich is always a life saver! To make it healthier I like to serve it on Ezekiel bread with vegan cheese and spinach finely chopped and mixed in. I usually include a healthy puff chip, applesauce and a vegetable with this one.
Another go-to is, a black bean "hidden "veggie quesadilla - black beans and shredded veggies of your choice. I usually add some healthy version of graham crackers (we love Annie's Organics) on the side, and yogurt with hemps seeds and fruit!
Our quick go-to dairy-free breakfast is cheesy scrambled eggs. We pair the eggs with homemade muffins or bagels, with some fruit and chocolate pea milk to drink!
Lastly, name your top three pregnancy or breastfeeding essentials! They can be items of clothing, specific products or anything else you couldn't live without!
I lived in the nursing bras from Kindred Braverly! Their bras are literally the softest and most hassle-free bras to nurse in. I couldn't have made it without my nipple cream from Motherlove Herb – another serious must. And lastly, from my pregnancy, I was obsessed with the belly sheet masks from Hatch Mama. They always left my belly feeling so hydrated, and became my favorite self-care ritual while pregnant.